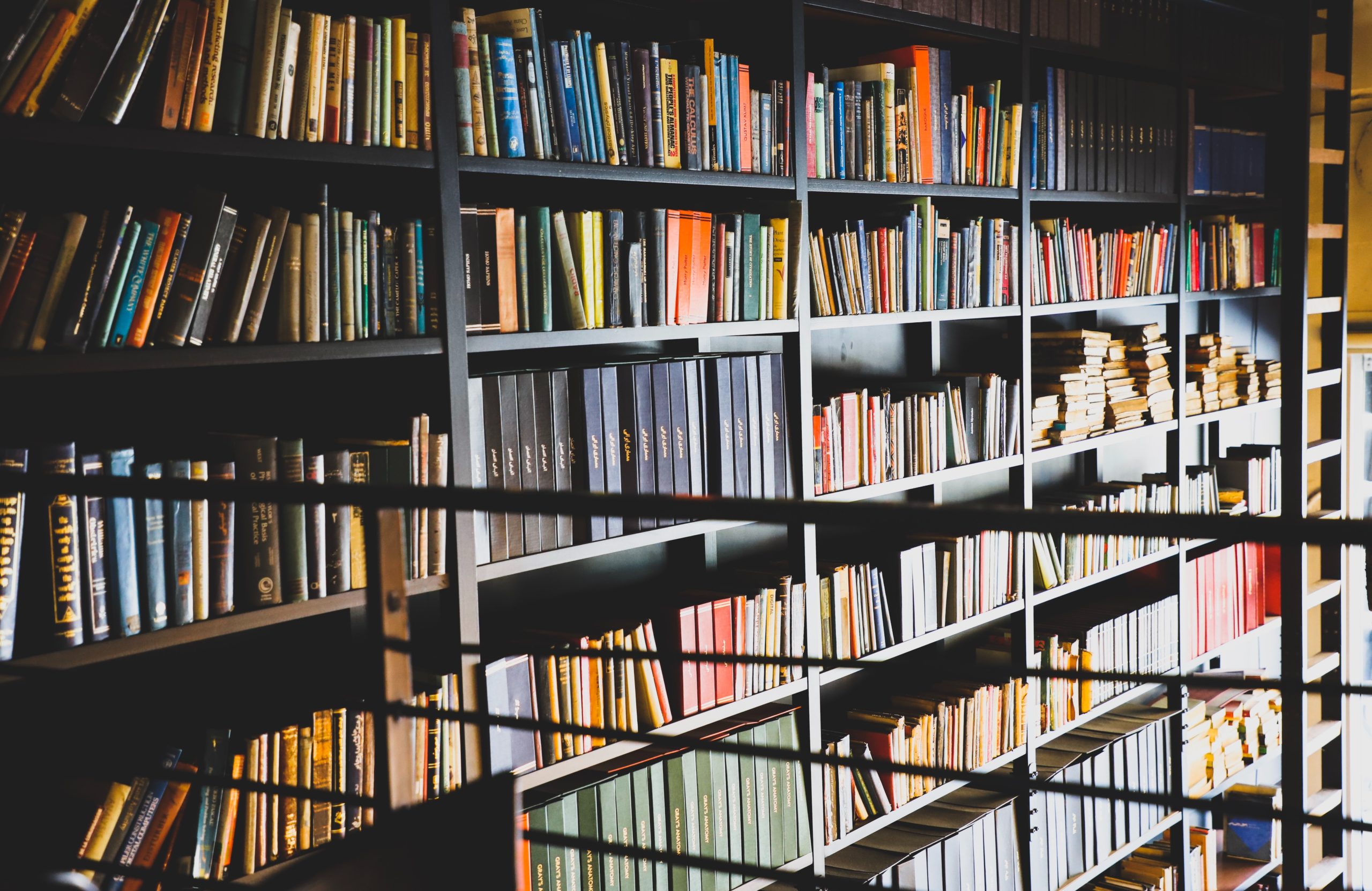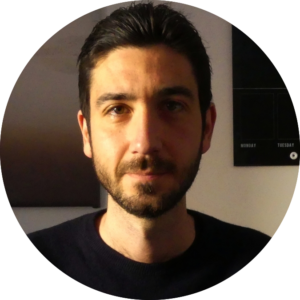 By Angelo Napolitano
When talking about books on project management, PMBOK is usually the first title that comes to mind. 
The problem with PMBOK is its dry and impersonal style which makes it hard to read and therefore far from the best book on the topic.
Fortunately, unless you are studying for the PMP certification, there are many other interesting and well-written titles about project management, team management and leadership that are worth reading. 
In this article, you will find 7 inspiring books for both beginners who are having their first look into the world of project management, or experienced project managers looking for new insights and strategies to improve their professional skills. 
Strategy and Fundamentals
Fundamentals of Project Management





If you are starting out in the word of project management, this is one of the best resources around.
The power of this book is in its readability.
The author provides practical tools, techniques and tips to start and execute a project respecting deadlines, budget and maximizing the efficiency of available resources. 
It even contains several references to PMBOK and technical terms, the text is very fluent and every passage is clearly explained with a step-by-step approach. 
Illustrative tables and summaries at the end of each chapter help fix all the main concepts, and it is enriched by a great number of real-life examples.
You will learn how to: 
– Develop a mission statement, vision, goals and objectives 
– Plan the project 
– Create a structure to break the work down 
– Produce a workable schedule 
– Understand earned value analysis 
– Manage a project team 
– Control and evaluate progress at every stage 
– Plan for risks
– Change control processes, and much more. 
Making Things Happen: Mastering Project Management

This book has everything you need to know about project management. 
It even goes beyond the concept of project management, including important insights about creativity, problem-solving and leadership.

The author offers a huge amount of practical tools, exercises, techniques, and provides a great deal of useful information to ensure the success of a project.
The style is witty and enjoyable, combining simple and direct language with technical jargon.
The content is organized into three sections: Plans, Skills and Management. Each section is progressively explored by analysing the professional skills and approaches needed to get the best out of a project.
An important added value is its huge bibliography, spread throughout the text and at the end of the book, with dozens of titles to explore themes besides project management, such as personal growth, productivity and leadership.
If you are searching for something that provides a wide vision and the right mindset to manage a project, while adding important insights about leadership and team management, then this is the book for you. 
Strategic Project Management Made Simple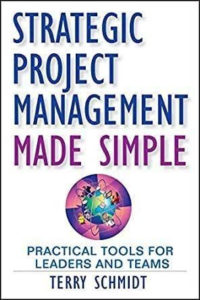 The right approach can make all the difference between project success and failure. 
If you start defining your project by its activities, tasks, schedules and budget (the How), it is highly probable that your project will fail. 
Why? 
This should be the first question that kicks off a new project.
Define the scope first and what drives your project, before thinking about how you will reach it. 
This is the central idea of this book.
Schmidt describes the techniques to find your Why – your scope – and ensure your project has a real impact on stakeholders. 
You will also find important considerations about how to manage and involve team members in a project as well as real-life examples and best practices to follow. 
The book is enjoyable as the author sprinkles the text with humour and even funny cartoons. 
Moreover, it is written in a simple style and every chapter ends with a short summary of the main concepts. 
If you are looking for a book that defines a sound strategy to approach a project, this book will give you a new perspective.
Managing Stakeholder Expectations for Project Success: A Knowledge Integration Framework and Value Focused Approach





To maximize the impact of a project, stakeholders are one of the main elements to consider. 
Paradoxically, identifying and understanding stakeholders' needs is often one of the hardest and most–underestimated aspects of preparing a new project. 
If you want to improve your abilities in stakeholder analysis and management, this book will provide important insights. 
Plus, in this case, the author prefers direct and simple language to difficult technical terms, making it highly readable. 
Checklists and mind maps help keep in mind the most important concepts and real-life stories, and anecdotes give a daily-life context to use the techniques described practically.
Far from being just a theoretical manual, this is a practical guide to help you manage projects with real people operating under real constraints. It will show you the common pitfalls to avoid when considering stakeholder analysis and what you should do instead to get the results you are aiming for.
If you are struggling to identify and deal with stakeholders in your project, this book will give you sound methodology and interesting insights to improve your professional skills.  
Leadership and team management
The Socially Intelligent Project Manager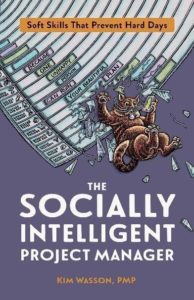 Bad teams might kill projects and businesses before they even start, but if you manage to get the right people in the same boat and everyone rows in the same direction, your project will skyrocket. 
Leadership and team management are two essential skills to master to ensure projects run smoothly. 
Wasson uses a clever and funny style to provide simple and effective methods to involve the right people in your team, motivate them to pursue the same objectives and reach great results. 
In other words, he shows readers how to achieve the soft skills that contribute to making a great leader.  
The book is full of real examples from daily-life and practical advice to identify your teammates' strengths and weaknesses and deal with them effectively.
If you are looking for a book that can enhance your social and leadership skills, to successfully run and manage a team, this is the right book for you.



Extreme Teams

Extreme Teams explores today's most innovative companies' teams. 
Essentially, successful companies tend to hire the right person instead of the best person, create an environment that inspires team members and enhance their creativity and maximize profit by not making profit what matters most.
The author analyses some of the key elements to building incredibly productive and creative teams at companies such as Pixar, Whole Foods, Airbnb, Zappos and Patagonia. 
Going beyond classic fundamentals and standard knowledge, Shaw highlights a series of things these companies get right, even if specifying that the success of these companies is not merely related to teams and that you can't simply import a set of practices into your company without understanding the culture and context you have and how these practices fit and get supported.
If you are searching for inspiring ideas to successfully run your project team, read this book and take inspiration from some of the best companies in the world. 

EU Perspective 
OpenPM² and Aid Delivery Methods





Let's close with 2 books that are completely free, provided by the EU's publication office. 
These two practical guides contain everything you need to know to approach EU calls for tender and proposals.  
All the basics of project management are covered, from project lifecycle management to logical framework, monitoring, reviewing, reporting, etc. 
The OpenPM² methodology helps establish a common project management language and approach, and increases effectiveness, collaboration efficiency and success coordinating EU projects.
If you want to understand the logic behind European calls and evaluations and improve the overall quality of your EU proposals, you should consider taking a look at these two guides.